2015–2019
Design Research Programme
Design covers a multiple field of action, it affects urban environments and the objects that populate domestic and public spheres alike, as well as what is played out between the two. Separating design into diverse specialties "design of spaces", "design of objects", "design of services" and so on, is not without its problems and tends to underestimate the existing relationships between these various fields of activity. Also, the singularity of design teaching at isdaT relies on the fact that it is considered above all as a state of being-in-the-world, as an attitude, fuelled by considerations of milieu, environment, and the urban context.
Another characteristic of the study of design as it is seen by the isdaT resides in the critical perspective adopted towards certain ways of thinking and practising design that are now widespread: this critique pertains to the design work that is entirely subordinated to economic interests—design in service to a productivist and commercial organisation.
Design as it is taught at the isdaT seeks different orientations; it will aim to make human interests prevail over a search for profit and competitive advantage, to care for individuals and their environment. Through this attention paid to the sensitive qualities of the objects produced, design can be an appropriate way to make individuals more aware, lively, and alert to the worlds around them. "There is no blind political awareness" in the words of filmmaker Jean-Marie Straub.
Here, political stakes—to be more lucid regarding our surroundings, to be informed of the specificities of our age and therefore able to discuss them—meet aesthetic ones. This encounter invites us to collectively consider "ideal" politics and questions pertaining to the forms of objects.
In order to question the relationship of the kind of design that would not be subordinate to economic interests or serve a productivist and commercial organisation, the research programme is divided into three sections.
Habitat and Precarity—2015-2016: questions the relationship between design, the city, and inhabitability, in a critical examination of specifications.
Working for Us, in Caylus—2016-2017: questions the relationship of milieu and the role of the appropriation of simple techniques – digital, artisanal, or combination modes of production, by users.
Reforming the Supermarket—2017-2019: questions the relationship of the supermarket environment as a challenging of the dominant models of major distribution and of "endless provisions".
Habitat and Precarity
2015-2016
Head of Project: Philippe Grégoire
Architecture and design, as disciplines that make the concern for the space between us central to their investigations, are inevitably affected by poverty in varying forms, which affects a significant proportion of humanity. These disciplines are sometimes reclaimed in order to confront emergency situations, to temporarily improve the living conditions of people in transit or homeless people. To what extent does a situation of lack of means lead us to rethink our ways of inhabiting space (where "inhabiting" cannot be defined as being somewhere, or having a place of residence)? How can designers and architects take the focus off their positions as "responders" in order to develop other modes of construction and creation? How can low-cost spaces be built and furnished? How can refuse be transformed into a resource?
programme for the implementation of the project
12 November 2015: guest speaker Sébastien Thiéry, political scientist and founder of the PEROU

January 2016: Minimaousse 6
17 March 2016: Precarity and habitat workshops with Cyrille Hanappe and Antoine Aubinet (architects), Marie-Christine Jaillet (sociologist), Mireille Bruyère (economist), Laurent Tixador (artist), and Frédérique Mozer. The proceedings of the day were recorded and will be retranscribed.
Working for Us, in Caylus
2016-2017
Heads of Project: Nathalie Bruyère and Laetitia Giorgino
Based on an examination of the difference between work and employment, the "Working for Us" episode focuses on labour practices developed on the fringes of the professional world and that, although they do not generate immediate profit, nevertheless remain important sources of wealth and creativity. Based on various situations of lack (considered as opportunities to devise other means of accommodation, heating, eating, resourcing, etc.), the idea is to examine the way in which architects and designers can design facilities that allow us to live on a shoestring budget, reduce energy consumption, produce or store and diffuse this energy, or else devise and build objects that can be repaired, instead of contributing to the production of objects that also lead to harmful consumer practices.
calendar
October – December 2016: theoretical research, first part of the "Working for Us" workshop
From 3 to 6 January 2017: in-situ research in the city of Caylus, second part of the "Working for Us" workshop, "Working Hypotheses".
The idea is to observe certain constructions from the Middle Ages and their internal workings, their networks of pipes, to identify their particularities using various precise measuring devices but also to interview the residents and evoke the various renovations that they have performed to modify their living spaces, the problems that they have encountered, etc.
From 13 to 17 March 2017: in-situ research in the city of Caylus, third part of the "Working for Us" workshop, relations between so-called "pure" craft and the digital world.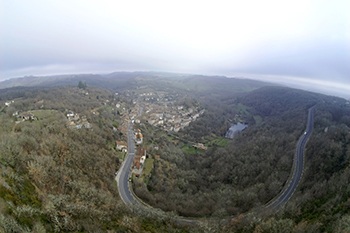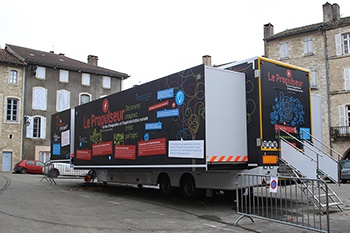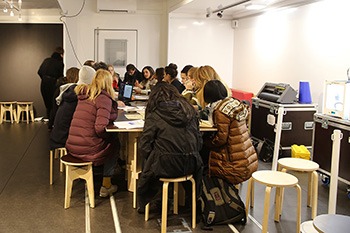 Re-forming the Supermarket
2017-2019
Heads of Project: Laetitia Giorgino and Hanika Perez
In recent years, cooperative supermarkets have been emerging as the sign of a challenging of hegemonic models of major distribution chains and the notion of "endless provision". Often incumbent on engineers, the appearance of supply areas has not often been the domain of architects and designers. However, the change in function calls for a particular presentation of these spaces, which would contribute to a more reasonable relationship to consumption.
Is it possible to envisage commercial areas as offering the possibility to understand the products present and their modes of production? Might there be ways of devising these spaces that would open up a more considered relationship to commodities, where contemporary retail favours impulse buying? These are the questions behind this design research, examining a more responsible creation of a supply area and questioning the ways of rendering the conditions of production and distribution of the products legible and visible.
During the 2017-2018 year, this introduction to research workshop was offered to fourth-year design students. From November 2017 to late January 2018, the workshop assumed the form of a participatory observation. The participating students became collaborative members of the "Chouette coop".
calendar
From 15 to 19 January 2018: the students left on a field trip and undertook various surveys and analyses to document and understand the mode of operation of supply areas.
From 12 to 16 February: the surveys identified a number of problems and working hypotheses, developed during a workshop with the Bam collective. These hypotheses involved design in its various fields (interior design, signage, conception of elements of furniture to be built, sound, etc.).
2018-2019
This year, the supermarket project will be undertaken in two parts. Firstly, it will give rise to a research and experimentation workshop (weekly session), associating teachers and students from the design option (design studio and environment) and the graphic design option. The students develop research pathways and scenarios for the project, towards a civic design focusing on the visibility and transmission of information and knowledge within the cooperative supermarket context.
Secondly, this project gives rise to a partnership with the DTCT masters at the Université Toulouse — Jean Jaurès. It takes place in various phases:
23 November 2018: study days at the Université Toulouse — Jean Jaurès, with Isabelle Bonnard (DPLG architect), Fabienne Desnoual (design researcher), J-P. Grunfeld (urban semiologist), Pierre-Damien Huyghe (philosopher) and Jacques Prades (economist).
From 26 to 30 November 2018: workshop hosted by Charlotte Talbot (designer). The branch of study was devised based on propositions of principles and adaptable, functional systems that could be adopted by the supermarket's future users.
May 2019: presentation of the project within the framework of an exhibition.